Since 2014, OSBAR, the innovation award of the German Open Source Business Alliance (OSB Alliance), highlights open source projects that add real benefit to the IT-world.
Submissions are assessed based on originality, innovation, practical relevance and maturity by a committee of six well-known German IT- and open source experts.
In total, 20 open source projects applied for this year's awards and one of them was our open source Ceph and storage management framework.
We're excited to announce that the openATTIC project yesterday was granted a silver award!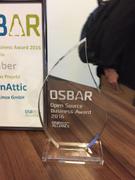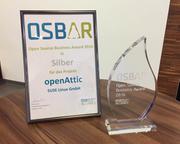 This is a great honor for us and we would like to thank the OSBA and the Jury for this recognition of our work.
The OSBAR winners were awarded during the OPEN! 2016 event of OSB Alliance on December 7 in Stuttgart, Germany. Volker Theile from SUSE's openATTIC engineering team participated on our behalf and accepted the award.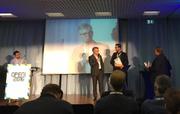 Congratulations to the openATTIC team and the other winners!
Thank you very much again for the award and special thanks to Volker Theile and Felix Kronlage for contributing the pictures to this article.